Pan-Seared Shad Roe with a Brown Butter Sauce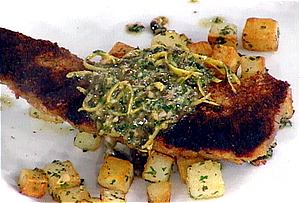 Ingredients:


2 shad roe sets (4 sacks about 4oz. each).

Salt.

Ground white pepper.

1 cup flour

1 large egg beaten with 1 tablespoon milk.

2 cups fine bread crumbs.

3 tablespoons oil.

1/4 cup butter.

2 tablespoons capers

1 large fresh lemon cut in half.

1 cup small diced white potatoes. blanched

1 tablespoon finely chopped fresh parsley.



Preparation:

Carefully season the roe with salt and pepper. At all times while handling the roe take care not to pierce the delicate skin. Dredge the roe in flour, tapping off excess.

Dip in the egg wash, letting excess drip off. Finally dredge in bread crumbs, coating completely. In a large skillet, over medium heat, add the oil.

When the oil is hot, pan-fry the roe for 2 to 3 minutes on each side, or until crispy and golden brown. Remove and drain on paper towels.

In a small pan , over medium heat, melt the butter. Cook the butter until it starts to brown, about 2 to 3 minutes. Add the capers, lemon juice, and potatoes. Season with salt and pepper. Cook for 1 to 2 minutes. Remove from the heat and add parsley.

To serve, place the crispy roe in the center of each plate. Spoon the brown butter mixture over the roe. Garnish with lemon zest.