Oven Fried Fish Fillets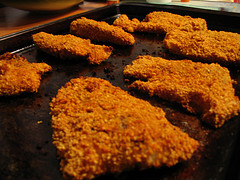 Ingredients:



1/4 cup butter

1 egg

1 tablespoon water.

1 tablespoon lemon juice.

1/4 cup flour.

1/2 teaspoon onion salt.

1/8 teaspoon white pepper.

1-1/2 cup bread crumbs, crushed crackers, or crushed corn flakes.

1 lb. mild fish fillets, such as flounder, tilapia or scrod.



Preparation:

Preheat oven to 350 degrees. Melt butter and pour into 13x9 inch glass baking dish; set aside.

In shallow pan combine, egg, water, and lemon juice; beat to combine. In a separate shallow pan combine flour, onion salt and pepper. Dip fish fillets in flour, then dip in egg mixture, and finally roll in breadcrumbs to coat.

Bake for 15-20 minutes until fish flakes easily when tested with a fork.