Linguine with Clams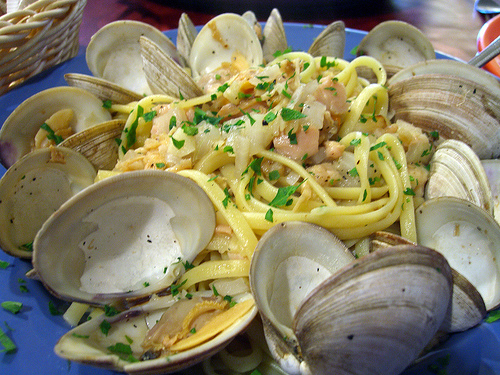 Ingredients:
24 - 36 Little Neck Clams

1 16oz Container Fresh Chopped Clams (or Frozen)

1 16oz Bottled Clam Juice

1/4 tsp. Crushed Red Pepper
Preparation:
Cook pasta according to package directions. Drain; keep warm.
Heat oil in a medium saucepan and cook onions until slightly translucent. Add minced garlic and crushed red pepper, cook an additional 2 minutes. Stir in white wine and reduce by half. Stir in clam juice and chopped clams. Cook sauce at a medium simmer until clams are thoroughly cooked but still tender. Add parsley and serve over pasta.
Meanwhile, rinse little neck clams. Place clams in a large pan and add water until clams are halfway submerged. Cover pan and bring water to a boil. Remove clams when they open and are fully cooked. Arrange little neck clams around pasta dish.