Baked Fish with Mediterranean Salsa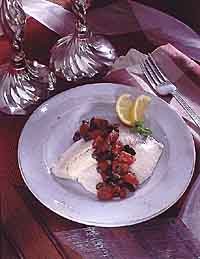 Ingredients:
4 lean, mild fish fillets (about 6 ounces each), such as flounder, tilapia or scrod.

2 tablespoons water.

1/2 teaspoon chili powder.

1 large tomato, seeded and chopped.

1 can (2-1/2 ounces) sliced ripe olives or kalamata olives, drained

2 tablespoons chopped fresh parsley.

2 tablespoons lemon juice.

1 tablespoon capers, drained.

2 tablespoons extra virgin olive oil.

1 teaspoon dried oregano.
Preparation:
Preheat oven to 425 degrees. Coat 12x8 inch baking dish with non-stick cooking spray, arrange fillets in a single layer. Pour water over fish and sprinkle with chili powder. Cover tightly with aluminum foil and bake 15 minutes or until fish is opaque in center and flakes easily when tested with a fork.
Meanwhile, combine tomato, olives, parsley, lemon juice, capers, oil and oregano in a small bowl; mix well. Remove fish from dish with spatula and place on individual plates. Spoon 1/3 cup of salsa over each serving.