Blackened Red Snapper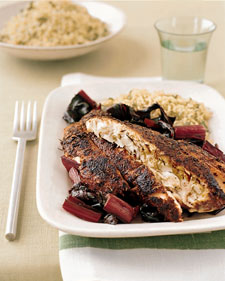 Ingredients:
2 Red Snapper fillets, halved.

1/2 cup margarine or butter.

2 teaspoons lemon juice.

1 tablespoon parsley, minced.

1 teaspoon paprika.

1/8 teaspoon cayenne.

1/8 teaspoon salt.

1/8 teaspoon garlic powder.

1/8 teaspoon thyme.



1/8 teaspoon onion salt.
1/8 teaspoon oregano.
dash of black pepper.
Preparation:

You will want to get the grill as hot as you can for this recipe. The idea is to get the seasonings to blacken before you flip the fish.

Mix together parsley, paprika, cayenne, salt, garlic powder, thyme, onion salt, oregano and pepper. Sprinkle over each side of red snapper. Melt butter and add lemon juice. Oil grill grate and preheat. Grill red snapper until done. About 4 minutes per side.

Remove fish from grill. Add parsley to lemon butter. Spoon about 1 tablespoon of
lemon

butter over each piece of fish and serve.