Baked Spicy Halibut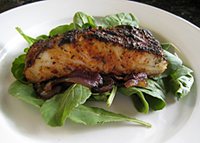 Ingredients:


1 1/2 to 2 pounds halibut fillet, cut into 8oz. portions.

Extra virgin olive oil or olive oil spray

Salt and pepper.

1 teaspoon paprika.

1/2 teaspoon dried thyme.

1/4 teaspoon dried oregano.

Dash Garlic Powder
Preparation:

Heat the oven to 400 degrees and position the oven rack in the center of the oven. Line a baking sheet with foil and grease with olive oil.

Wash halibut fillet and pat dry. Rub the fillet all over with olive oil and sprinkle lightly with salt and pepper.

In a shallow bowl, combine remaining ingredients. Dip the tops of fillets lightly in the seasoning mixture. If you want a more lightly seasoned mixture simply sprinkle seasoning on fillets.

Place the fillets in prepared baking pan, season side up. Bake halibut for 10-12 minutes or until cooked through.

Note: If you want a blackened look, sear the seasoned tops in a well greased skillet over high heat for about 1 minute before baking, and cut 2 minutes off baking time.